Custom surveys
Host your own survey, for your campaign
Help your members vote based on the issues they really care about at the next election, and create valuable insight to build influence and dialogue.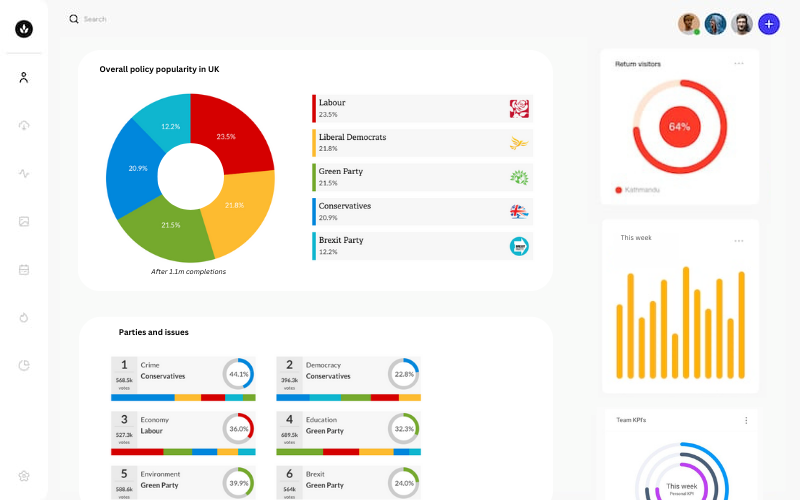 Our policy comparison survey is now open to all. At no cost.
For more than a decade, we've been helping millions of people make an informed choice in a uniquely engaging way. Now we're opening up our policy-comparison survey for campaign organisations or interest groups who want to provide the same level of engagement to their members, drive voter turnout, and ensure political parties understand the issues on which their members will be voting.
Help your members stay informed, registered, and more likely to vote.
Research has found up to 80% feel more informed after using our unique format, and up to 35% are more inclined to vote than before. Now you can provide this same experience to your members.
Unique results that create meaningful dialogue
Your survey results create unique, valuable insight that can show political parties the policies that work for your members, and those that don't. With an election next year, this can help drive for awareness of your campaign issues, and support meaningful dialogue with policymakers.
Supporting a fairer democracy
Vote for Policies is a pro-democracy, non-political organisation that provides the tools and support to help people participate in democracy. By working with us you are supporting our mission by:
3 simple steps to get going
Set up is free and takes just a couple of discussions. In no time at all, you'll be hosting a unique service to engage your members, drive turnout, and boost your campaign.
Frequently Asked Questions
Getting set up is quick and simple, and doesn't require any technical help. If any of your questions aren't answered here, please get in touch and let us know how we can help.
"Just what is needed to inform us and help us make choices."
"Gives a different and more in-depth engagement with the issues!"
"Fantastic, I feel like I have had a revelation."