We believe that everyone should have a say in how our society and our communities work. In order ro close the 'representation gap' we need to understand why certain groups are less likely to participate than others, and adapt our services accordingly.
But for any group we want to engage, our approach is the same. This approach, which we call DEEP Democracy, is structured around a comprehensive concept of participation that recognises the need to address the drivers of participation, not just participation itself.
DEEP Democracy means...
We promote and enable Discussion of policy and politics. Active discussion has been shown to be a driver of democratic participation.
We deliver information and interactive Education on policies. When people have access to better information and engage with issues, evidence shows they are more likely to engage in democratic processes.
We provide positive messaging to Empower people, focusing on the value of political participation, information about rights and accountabilities, as well as examples of where participation has created impact.
We encourage Participation in community, local democracy and national democratic activities. We signpost ways to engage and take action.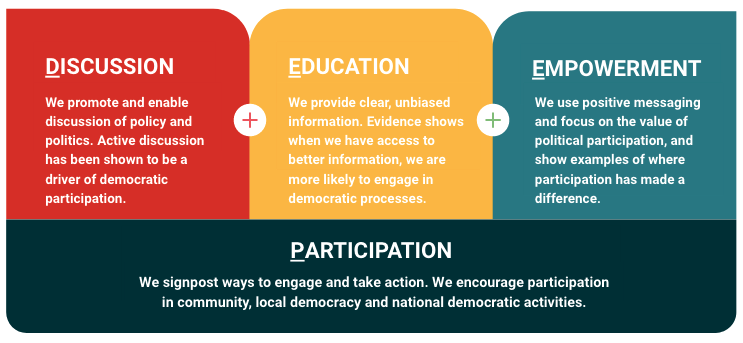 Evidence shows that each of these activities promote informed participation, and that this engagement is positive for individuals, communities and societies. Together, they enable sustainable democratic engagement, and underpin the delivery of our strategy.
We believe the UK will be a fairer, happier, healthier place when democratic participation is stronger and everyone has a say.
How you can support DEEP Democracy
Our ambitious strategy requires investment in order to catalyse the change we believe we can facilitate. We have identified staff time as the critical investment needed.
In order to deliver the strategy that we outline here, we intend to grow our team over the next 3 years from being majority volunteer-run with two part-time roles, to a team of five full-time staff.
These staff roles would enable us to reach more people, focussing on those least represented, and make democracy something for everyone.
Could you spare the price of a coffee per month? If you can, please donate to our campaign to fundraise for a small core staff.